Hello,
I have signed on to write a blog on a regular basis for the National Association of Corporate Directors, which, as you may know, is the membership organization for those who sit on (or work with) Boards of Directors of organizations of all types and sizes, both for-profit and not-for-profit.
I would like to believe that these posts will resonate with everyone interested in topics of leadership, not just directors. Please let me know what you think.
If the work of Boards of Directors and topics of leadership are of interest to you, I would encourage you to take a more-than-occasional look at that site, and add your thoughts to the conversation. I promise I'll respond to your comments.
My initial post on keeping apprised of what's happening with your companies is below:
Staying Connected to Your Companies

In the past few weeks, I have spent time with individual directors and entire boards in a particularly wide range of companies. The companies they serve represent the entire spectrum of publicly traded entities, from high-tech entities with $100 million market caps to multi-billion dollar multi-national spectaculars.

>>>Click to read the complete post, Staying Connected to Your Companies

If you would prefer not to receive occasional emails like this, please click the unsubscribe link at the bottom of this email.
Kind regards,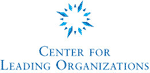 ~ ~ ~
© 2010 Center for Leading Organizations, All Rights Reserved
www.centerforleading.com