Greetings -
Directorship Magazine has just published my article: What Better Directors Do.
The value of a board is magnified when its individual members learn about the company outside the boardroom. In this article, I discuss several ways outside directors can gain this all important 360-degree perspective. Executives and consultants can also use some of these suggestions to learn how a company is performing at different levels.
Are you on a board? Do you know your organization's directors? Or, are you looking for a reason to introduce yourself to one of them? Please feel free to forward this article as an excuse to make contact with them.
Many thanks,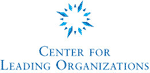 ~ ~ ~
© 2012 Center for Leading Organizations, All Rights Reserved
www.centerforleading.com