Hello,
I am once again blogging on the Harvard Business Review website, and my first post of 2012, entitled "How to Keep Your Cool During a Performance Review", has just been posted at blogs.hbr.org/cs/2012/01/how_to_receive_feedback.html. I hope that you will have the chance to give it a look, and I would be very appreciative if you would leave a comment in response.
It would be particularly interesting to hear about any of your memorable performance reviews, and if you think they get easier over time. The hbr.org blog draws many readers, and your comments and observations will make it even more valuable in improving management practices around the world.
It is likely that I will be writing more blog posts over time, not just on the topic of feedback, but on a variety of topics in the leadership realm. If you're interested in following these, I will continue notifying you by email. Your email address will not be shared with anyone else or used for any other purposes. If you'd rather not be emailed, please click the unsubscribe link below.
Thank you. I hope 2012 will be a great year for you and your organization.
Kind regards-
P.S. I'm honored to be included on the recently-announced list of Top 100 Thought Leaders in Trustworthy Business Behavior 2012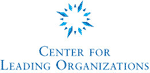 ~ ~ ~
© 2012 Center for Leading Organizations, All Rights Reserved
www.centerforleading.com