Greetings -
Inc Magazine has just published the second of my series of articles on the tripwires of leadership: A Failure to Communicate.
This article introduces The Tripwires of Clarity. These tripwires can get you coming and going: first, they can arise when we don't accurately perceive what's going on. Second, they can trip us up when we don't always do the right things with the information we receive.
I hope that you will take a look and share your feedback on the Inc Magazine site.
Many thanks,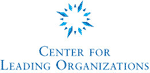 ~ ~ ~
© 2012 Center for Leading Organizations, All Rights Reserved
www.centerforleading.com